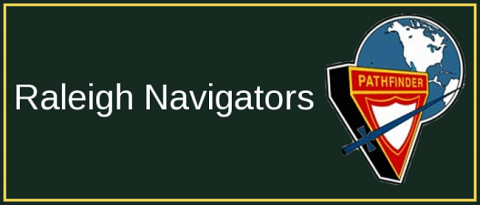 Raleigh Navigators
The Raleigh Navigator Pathfinder Club is part of a world wide organization of young people sponsored by the Seventh Day Adventist Church. Youth of any religious persuasion are welcome and encouraged to participate in group activities.
The Raleigh Navigator Pathfinder Club participates in many activities and events during the year. They include but are not limited to:
Bible Study
Camping and Survival Skills
Community Service and Outreach Projects
Leadership Training
Interactive Training in a variety of artistic, nature, recreational, conservation, vocational and outreach areas. Honors (awards) are given upon completion of interactive training modules.
The Pathfinder Club is for youth ages 10 (or grade 5) to 15 (or grade 10 ).
The five classes in Pathfinder Club are:
Friends
Companion
Explorer
Ranger
Voyager
Guide
Master Guide

If you are interested in getting more information regarding the Raleigh Navigator Pathfinder Club, please contact us at 919-851-1302 (main Church phone).
Carlos Rojas, Director
Thomas Ogwangi, Deputy Director
Pamela Phillips, Secretary